Copacabana Corner Suite - Ocean Designs
Copacabana Corner Suite
Premier Grade Fabrics - Loft Citron Cushions, Loft Poppy & Loxley Cherrywood Scatter Cushions.
RRP £1,970.00 inc VAT
EX-Display Price £1,141.00 inc VAT Free Local Delivery
On display at Burton Glass Showroom 01283 567080 or contact us online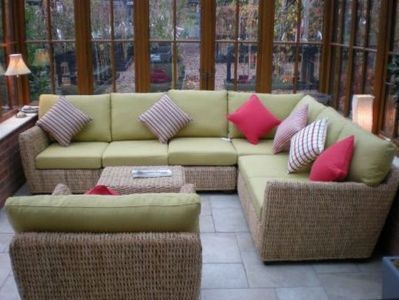 Conservatory Furniture Sale
We are selling some of our fantastic ex display, conservatory furniture suites. Our stock is limited and with local free delivery, make sure you don't miss out. We are offering fantastic discounts on all our conservatory furniture suites, Sofas and chairs so if you don't see what you're after then Contact Us now and we can help to get what you're looking for!
All our conservatory furniture has amazing build quality and with fantastic quality fabrics, you won't see any conservatory furniture of better quality, cheaper anywhere else. All of our furniture is made from top quality materials, is guaranteed to make a beautiful addition to your home and conservatory, and will last for many years to come.
Contact us today for more on our Conservatory Furniture Sale
For more information or for some prices for Conservatory Furniture Sale then contact us direct today. Call us on 01332 371883 or alternatively fill in our online enquiry form.